Trumpet Daffodils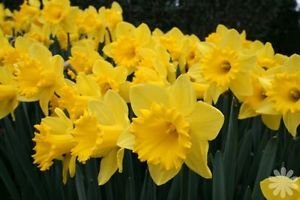 GARTHWAITE NURSERIES 100 KING ALFRED TRUMPET DAFFODIL BULBS VIVID YELLOW SPRING PERENNIAL GREAT VALUE
Trumpet Daffodils have the "traditional" daffodil form: there is one large blossom per stem and the trumpet is exceptionally long. Specifically: the length of the trumpet is equal to the length of the petals, or longer.
These daffodils are noted for their long blooming season, and their very large blossoms. They look particularly good when planted in bunches or large clusters.
Trumpet Daffodils are also excellent naturalizers. In other words, they come back year after year, and will gradually multiply.
Flowering time:
most varieties are early to mid spring floweringA few are very early spring flowering: Rijnveld's Early Sensation, Glenfarclas
A few are late spring flowering: Vie en Rose (mid to late), Primeur (late)
Plant height:
12 – 24″ (30 – 60 cm)
Minimum planting depth:
6″ (15 cm)
Hardiness zones:
suitable for zones 3 – 7
Colours:
white or yellow petals with white, yellow, pink, orange or red trumpet
Shape/form:
trumpet (corona) as long or longer than the petals (perianth segments)
foliage is gray-green, approximately 1/2 to 1″ wide
most produce only one flower to a stem
Alternate names:
Trumpet Narcissi
Notes:
good for beds and borders
perform better in the cooler zones than they do in the Deep South
Example varieties:
Arctic Gold (goldenrod yellow), Dutch Master (bright yellow, flared trumpet, serrated edges), Empress of Ireland (white overlapping petals, flared trumpet), Glenfarclas(golden yellow petals and red-orange trumpet), Golden Harvest (golden yellow), King Alfred (golden yellow, pointed twisted petals), Las Vegas (creamy white petals, canary yellow trumpet), Mount Hood (ivory white), Primeur (egg yolk yellow), Rijnveld's Early Sensation (bright yellow), Spellbinder (yellow petals, greenish sulphur-yellow trumpet, matures to white), Vie en Rose (white petals with deep pink trumpet)
If you have any information,questions, or feedback you would like to include in this post.

Please email momo19@naturekingdoms.com or leave your comments below.