Jonquilla Daffodils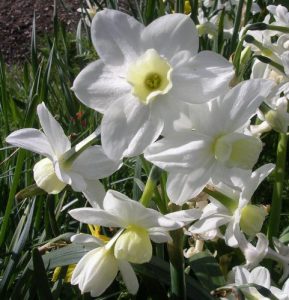 Plants4Less Daffodil 'Silver Chimes' narcissus jonquilla 12 bulbs
The daffodils of this group are noted primarily for their scent: the most fragrant daffodils of the Narcissus genus are found in this division.
These daffodils are also floriferous; in other words, they normally produce more than one flower per stem. On average, a Jonquilla Daffodil will have two to six blossoms per stalk.
They are also known for being exceptionally durable. The bulbs naturalize (i.e. come back year after year, gradually multiplying) extremely well.
Unlike some daffodils, which prefer a cooler climate, Jonquils do very well in hot climates and appreciate a hot summer sun. However, the pink-cupped varieties should be planted in semi-shade or filtered sunlight to maintain their rosy cup colour.
Flowering time:
Most Jonquillas are late spring flowering
There are a few exceptions: Trevithian** (early), Pipit* and Suzy* (mid-spring)
Plant height:
10 – 16″ (25 – 40 cm) is the average height
Some miniature varieties (eg. Baby Moon*, Kidling*) may grow to be only 4″ (10 cm) tall
Other varieties (eg. Shah*, Stratosphere**) have been cultivated to be particularly large and may grow to 24″ (60 cm)
Minimum planting depth:
5″ (12 cm0
Hardiness zones:
Suitable for zones 5 – 9
However the variety "Sweetness" prefers zones 6 – 10
Colours:
White or yellow petals with white, yellow, peach, pink, or orange cup
May have a green eye
Shape/form:
Petals are either spreading or reflexed (bent back)
Cup is normally wider than it is long; either cup-shaped, funnel-shaped or flared
Leaves are narrow and dark green, resembling rushes
One to five (sometimes eight) flowers to a stem
Alternate names:
Jonquils, Small Jonquils
Notes:
Ideal as cut flowers; good for beds and borders
Example varieties:
Bell Song* (white with pink cup), Fruit Cup** (white with pale yellow cup), Hillstar (lemon yellow with ivory cup), Intrigue (bright yellow with frilled white cup),Martinette** (golden yellow with orange cup), Pink Angel (white petals, white cup with pink rim and green eye), Pipit* (sulphur yellow with white cup), Quail* (bronzy yellow), Sailboat* (white with cream or yellow-cream cup), Stratosphere** (golden yellow with orange cup), Suzy* (golden yellow with red cup), Sweetness** (golden yellow), Trevithian** (deep yellow), Waterperry (white with peachy-yellow cup)
If you have any information,questions, or feedback you would like to include in this post.

Please email momo19@naturekingdoms.com or leave your comments below.