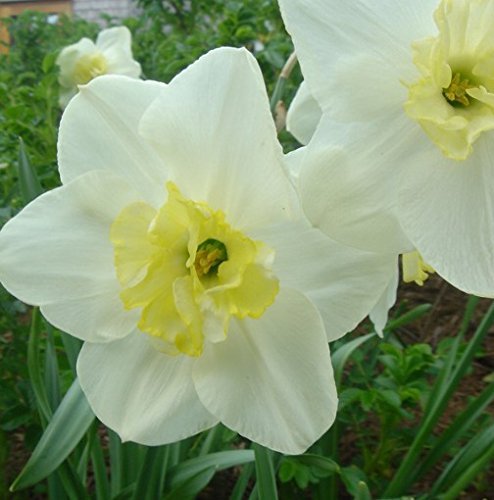 JULIA'S GARDEN-20 WHITE BUTTERFLY DAFFODIL -NARCISSUS PAPILLON BLANC-SPLIT CORONA SELECT CHOICE-SPRING FLOWERING BULBS
The blossoms in this division have a very unusual form. The term corona in the title refers to the cup (or trumpet) of the daffodil.
The cup is split for at least one-half its length, creating an open, up-facing blossom, instead of the typical trumpet. As a result, many of the flowers look more like a Hibiscus than they do a daffodil.
Overall these are some of the showiest daffodils ever, especially for mass plantings. They are excellent as cut flowers – always a highlight in flower arrangements.
Flowering time:
mid spring
Plant height:
12 – 18″ (30 – 46 cm)
Minimum planting depth:
5″ (12 cm)
Hardiness zones:
suitable for zones 3 – 8
Colours:
white, yellow, pink, and orange (may have touches of green)
Form of CollarDaffodils:
the corona (trumpet) segments are opposite the petal segments
the corona segments are usually in two whorls of three
Form of PapillonDaffodils:
the corona (trumpet) segments alternate with the petal segments
the corona segments are usually in a single whorl of six.
(Note: papillon means "butterfly" in French)
Alternate names:
Butterfly Narcissi, Split-Cup Narcissi
Notes:
outstanding as cut flowers; good for beds and borders
Examples of Collar varieties:
Cassata (lemon yellow and white), Colblanc* (white with green eye), Mondragon* (golden yellow and tangerine orange), Orangery (white and pale tangerine), Palmares (white and salmon pink), Rosado (white and peach), Tripartite* (3 or 4 lemon yellow flowers)
Examples of Papillon varieties:
Broadway Star (white and orange), Lemon Beauty (white with rays of yellow), Papillon Blanc (overlapping white petals with green and yellow cup), Marie José(yellow flecked orange with white margins), Sorbet (ivory with yellow-orange), Space Shuttle (white with streaks of orange and yellow)
If you have any information,questions, or feedback you would like to include in this post.

Please email momo19@naturekingdoms.com or leave your comments below.